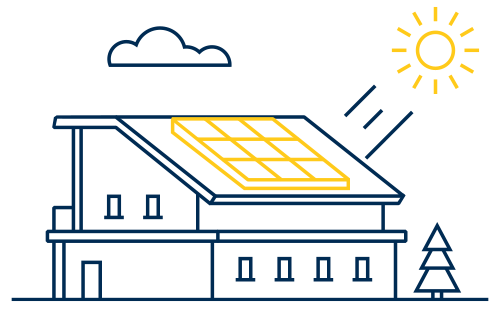 Solar 101
What is solar? Also known as Solar power is energy from the sun that is converted into electrical energy. Solar panels capture electrical energy from the sun and provide electricity for your business.
Why should I install solar? To meet your sustainability goals, cut energy costs and maximize your tax benefits.
How does solar affect my electric bill? Your solar system generates electricity that reduces the electricity you need from the utility company, resulting in a reduced electricity bill. CSW Energy will custom design your solar system to cut your energy costs.
Where can I install solar? Solar systems can be installed anywhere. On rooftops. On parking lots. On the ground.
What is a ZREC?
A ZREC which stands for Zero-Emission Renewable Energy Certificate is a Connecticut state incentive where Eversource or United Illuminating Company (UI) offers a 15-year contractual revenue to businesses for generating power from their solar system. You earn one ZREC for every 1,000 kilowatt-hours your system produces.
What are the benefits of ZRECs?
ZRECs pay a fixed revenue stream for 15 years. It will also shorten the return on investment, provide a new source of revenue, maximize your energy savings from solar, and help you reach sustainability goals.
How do ZRECs work?
As your solar system produces energy (in kilowatt-hours) you generate ZRECs. For every 1,000 kilowatt-hours the solar system produces, you earn one ZREC.
Are there different system sizes associated with ZRECs?
Yes, they are;
Small ZRECs

are applicable to solar projects up to

100 kilowatts

(AC).

Medium ZRECs

are applicable to solar projects greater than

100 kilowatts

and less than

250 kilowatts

.

Large ZRECs

are applicable to solar projects greater than or equal to

250 kilowatts

and less than or equal to

1,000 kilowatts

, or 1MW

Low Emission Renewable Energy Credits

(LREC) is applicable to solar projects greater than 1MW up to 2MW.
Are there different ways to submit a ZREC application?
Yes, they are:
Small ZREC

projects are eligible to enroll in a tariff. CSW Energy will submit the application. Unlike Medium and Large ZRECs, a small ZREC does not need to participate in the competitive solicitation process.

Medium, Large ZREC along with LREC projects are accepted by Eversource or UI on a competitive basis.
What is C-PACE?
Commercial Property Assessed Clean Energy (C-PACE) is an innovative, long-term financing solution that makes solar more affordable for Connecticut businesses.
How much does C-PACE cover?
C-PACE offers up to 100% financing for most solar systems projects with as little as $0 down.
What are the terms?
C-PACE financing is available for up to 25 years Solar projects typically choose 15 years to align with ZREC payments which is also for 15 years.
How does C-PACE work?
The lender attaches a special assessment to the property. You repay the assessment through your annual property taxes.

Additional FAQs
What is the Federal Investment Tax Credit (ITC)?
You can deduct 26% of your solar installation costs from your federal taxes and it can roll over to next year if you don't use it all up in the first year. The amount you can deduct drops next year so be sure to get solar this year to maximize your tax benefits.
What is the Modified Accelerated Cost Recovery System (MACRS) depreciation?
A bonus depreciation where you can deduct 100% of the system cost in the first year of operation. Accelerate your return on your investment.